Hymns of The Savior - Piano with Lyric Slides (.mov files)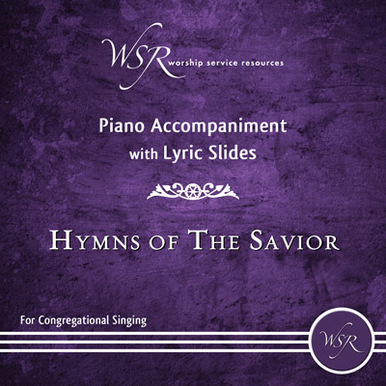 Hymns of The Savior - Piano with Lyric Slides (.mov files)
WATCH THE DEMO BELOW!
This is an easy-to-use disc containing .mov files, giving you WSR's beautiful piano accompaniment AND lyric slides in one great resource! It is not a CD. It is designed for use with a computer and will not work in a DVD player. If you have questions, give us a call at 1-877-977-6800.
This all-in-one resource is perfect for congregations or small groups.
All Hail the Power of Jesus' Name (4 verses)
All the Way My Savior Leads Me (3 verses)
Amazing Grace (4 verses)
Blessed Be the Name (4 verses)
Crown Him with Many Crowns (4 verses)
Fairest Lord Jesus (4 verses)
Friendship with Jesus (4 verses)
I Am Thine O Lord (4 verses)
I Have Decided to Follow Jesus (4 verses)
I Know Whom I Have Believed (4 verses)
Jesus Is All the World to Me (4 verses)
Love Lifted Me (3 verses)
Our Great Savior (3 verses)
Praise Him! Praise Him! (3 verses)
Rejoice the Lord is King (4 verses)
Satisfied (3 verses)
Saved, Saved! (3 verses)
Tell Me the Stories of Jesus (3 verses)
The Lily of the Valley (3 verses)
To God Be the Glory (3 verses)
sale